By Meredith Bollinger, Style Coach and mama of 1
Have you ever been so stressed/annoyed/dumbfounded about what to wear to an event that it takes ALL of the fun out of even going? Let's get real, some of you may even skip outings all together because you have, "nothing to wear!" Does that phrase sound familiar? I might have screamed that at my sweet mom a few times in my teenage years (sorry, mom!). Since I'm now a mature and emotionally controlled woman in my 30's, closet melt-downs are a thing of the past. Ok, maybe that's not totally accurate…but this isn't about me.
While throwing a closet tantrum may not be your current avenue for relieving stress, getting dressed for holiday parties can bring out your inner 14 year old.  To hopefully take the edge off of holiday dressing, I've put together a few of my go-to looks for every party on your list, including an idea for the tween girl in your life. After all, this time of year should be about bigger things than "having nothing to wear."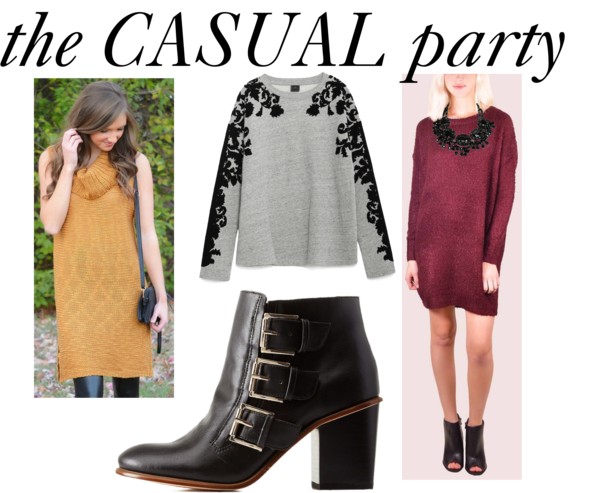 THE CASUAL PARTY: For all of those relaxed holiday gatherings, I always want to be extra warm. So I recommend going for an embellished sweatshirt and killer ankle boots, or a bold sweater dress/tunic. It's festive without being so obvious. I pulled this sweater dress, with a hint of shine, from Belle Boutique.  You could add almost any boot in your closet and opaque black tights to be extra cozy. Belle's cowl neck tunic is adorable styled over a leather legging or skinny black pant. And you should be comfy enough to enjoy all of the holiday food involved.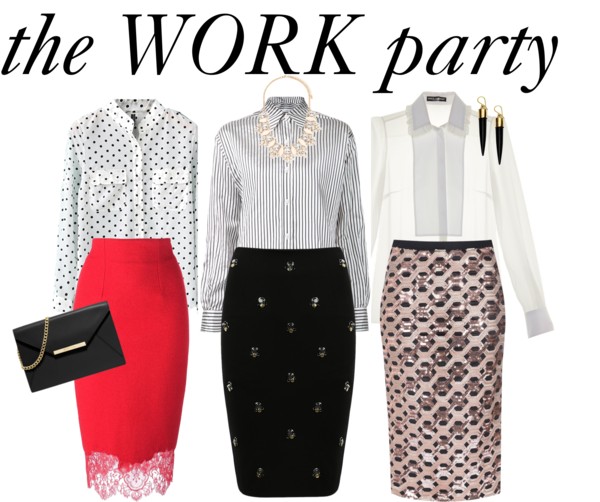 THE WORK PARTY: can be tricky because you want to stay appropriate but be festive at the same time. This look strikes the perfect balance. If you're a working professional, you probably have a few of these pieces in your closet already. And if you're the guest of an employee, this looks puts the spotlight on them and not you. There are a lot of embellished pencil skirts around, so you can surely find one that suits your style. Go for all-out sequins or just a touch of lace. And almost any blouse can work since your skirt is carrying most of the flair. I love the idea of a classic white tuxedo shirt and a bag with some sparkle.  But you could also do a blouse with color or a small pattern. [See below for some adorable bags and jewels at Belle Boutique to pull your look together.]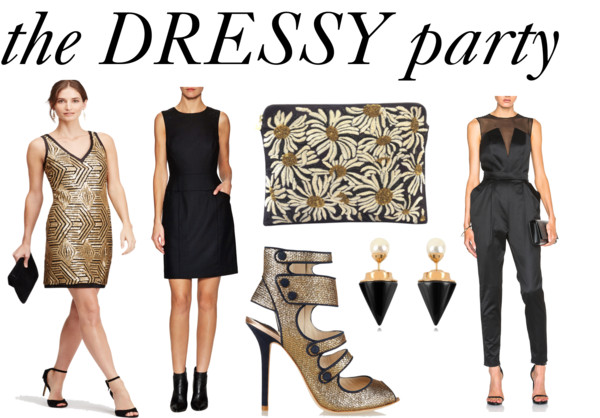 THE DRESSY PARTY: It's always a no-brainer to wear a dress to your holiday party. Because it's the season for party dresses, this is your best chance at finding THE ONE. Almost every retailer has something festive on the rack. Look for simple silhouettes in festive fabrics or embellishments. If you can't find THE ONE, or just don't want to mess with it, try a simple dress you already own (a black dress is a great choice) and add a bold heel. If you just can't stand to wear another dress, try a dressy jumpsuit. Jumpsuits are fresh but totally acceptable for cocktail attire. You can go all-out fancy, or keep it more basic and up the glamour with your accessories.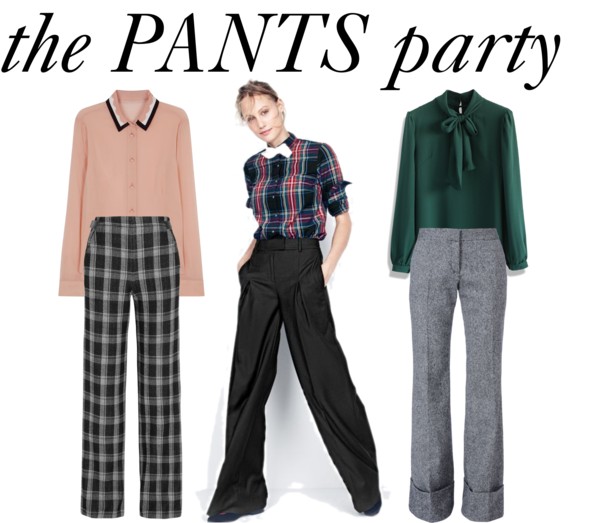 THE PANTS PARTY: I have several clients, different ages and shapes, who just don't like skirts and dresses. They each have their own reasons, but showing their legs is one of their least favorite things. Maybe you don't mind a bare leg, but your holiday outing involves time outside and you'd like to avoid freezing.  Or better yet, you might just want to try something new and different. If any of this rings true, this is your best holiday look! Try a wide pant in black wool and pair it with a festive top. Or you can try a patterned wide pant. Just make sure to balance the wideness of the pants with a more fitted top. The easiest way to still have shape is to tuck your shirt in. If that's not your thing, try adding a fitted jacket that's slightly cropped. Make sure your pants almost graze the ground, but don't drag.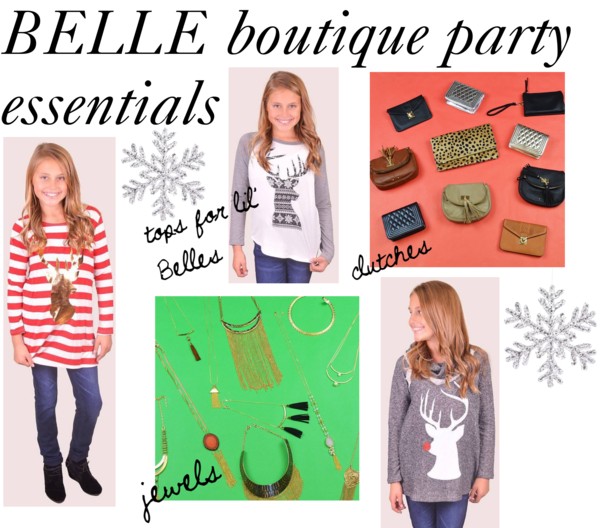 Belle Boutique has some adorable holiday tops for the tween in your life [click to check out their Lil' Belles line]. You probably aren't taking your kids along to your office party, but these would be perfect for a school party or a family outing to see Christmas lights. Belle also has a great selection of bags and jewels to pull your holiday look together, no matter what the party is. While shopping, I couldn't help but notice all of their super cute holiday gifts. A few of my faves are stemless glasses that look like Rudolph and sweet personalized ornaments for newlyweds. You could grab what you need for your holiday look, AND pick up a little something for someone else: Christmas win! Now you're fully prepped to get dressed with a little extra confidence so you can celebrate the REAL meaning behind all of these holiday parties! Merry Christmas!
Note from the Mamas: If it's tough for you to shop in person because you're short on time or have little ones in tow, Belle Boutique has an awesome online store with tons of options. They also have stores in Fayetteville, Rogers, and two locations in Bentonville.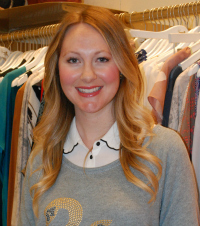 Meredith is a lot like a coach, but for your style: helping you take a little stress out of getting dressed. She can help you refresh your current wardrobe by styling it for you, create a personalized shopping list to update your closet and get the most out of what you already own, and she can even do all the shopping for you! She loves helping women feel confident about what to wear and how to wear it. She lives in Fayetteville with her husband and almost one year old boy. Connect with her on Instagram (@mere.stylecoach) and email her for more information or to schedule a coaching session. (Send email to mere{dot}stylecoach{at}gmail.com.)