If you're new to nwaMotherlode.com, you'll want to know what makes our celebrity gossip column a little different from the rest. Ours is "good" gossip, which means we filter out all that nasty, mean-spirited stuff (that's often a big fat lie anyway) and yet still deliver those interesting little personal tidbits about popular celebs. So enjoy your gossip guilt-free, ladies, because it's all good.
Celebrity Dish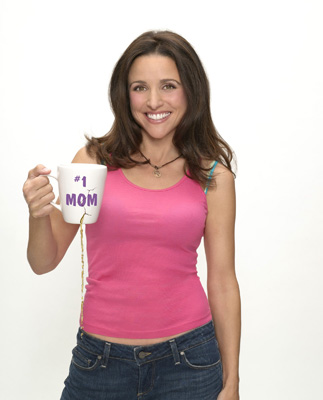 Julia Louis-Dreyfus, mom to two boys, ages 16 and 11, said her secret to balancing work and family is to "get up very early and get a lot of things done before my kids get up." (Source: People Magazine, Nov. 24th edition)
At the premiere of the Kung Fu Panda DVD release, Angelina Jolie said her four-month-old twins are now smiling. "They are at that stage where their personality really starts to shine," she says. (Source: People Magazine, Nov. 24th edition)
Ellen Pompeo, star of Grey's Anatomy, toasted her one-year anniversary to husband Chris Ivery at a party held at Tao Las Vegas. Kate Walsh and husband Alex Young, Jenna Fischer, Lindsay LohanStacy Keibler and were also there. (Source: People Magazine, Nov. 24th edition)
As you probably know by now, President-elect Barack Obama and wife Michelle have promised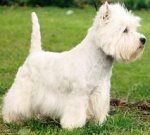 their two daughters a puppy once they settle into the White House next year. He wants a rescue dog or a Labradoodle, but daughters Malia and Sasha have hoped for a Westie (like the one at left) they plan to name Snowball. Either way, Mom Michelle says they have to wait until spring. (Source: People Magazine, Nov. 24th edition)
Joely Fisher recently expanded her family by adopting a baby girl she named Olivia Luna. She joins sisters True, 2, and Skylar, 7. Fisher is married to Christopher Duddy. Six-week-old Olivia was born to an unwed teenage mother in Los Angeles. "I remember telling my mom I wanted to adopt when I grew up. This is a dream come true," she said. (Source: People Magazine, Nov. 24th edition)
CNN news anchor Campbell Brown, 40, and husband Daniel Senor are expecting a second child in April. They already have a toddler, Eli, who is 10 months old. "He waved bye-bye to me for the first time," Brown says. "I burst into tears!" (Source: US Weekly, Nov. 17th edition)
Local Dish
Jennifer Capps of Bentonville recently won a nwaMotherlode.com gift certificate for dinner at Blackboard Cafe. Jennifer is eight months pregnant with her third child. She and husband Jon and their kids, Kathryn, Hunter and Jacob, are anxiously awaiting the arrival of a new little sister. Congrats to the Capps family! Enjoy your dinner out on the town!
Amy Gilmore, a mother of two who recently moved with her family to NWA from Montana, won a Bath Junkie door prize at the nwaMotherlode booth at Candy Cane Lane Holiday Market over the weekend. Congratulations, Amy! She was excited to find out she could take her Bath Junkie goodies to the Rogers store and get some of the items scented/tinted to her own specifications! And speaking of Candy Cane Lane, it was a super event with a nice variety of businesses represented. We'll be sure to have a booth there next year, too! The Junior Auxiliary women were on the ball and made sure all the vendors were well looked after. Thanks, ladies!