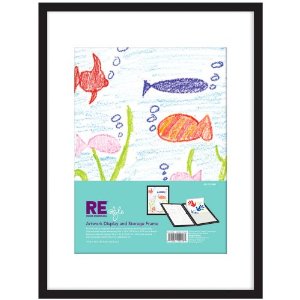 Shannon and I were taking a spin around Target not long ago when we spotted this product and decided it must have been invented by a fellow mom because it's pure genius.  It's an "artwork display and storage frame", which basically means it's like a regular photo frame only this one has a front door on a hinge that lets you open it up quickly and put in the latest piece of artwork created by your kids. We love how accessible it is!
Most of the time, we moms have the best of intentions when it comes to framing the pictures our kids draw for us at school. But then we get busy with the zillion things we have to do every day and the special artwork never finds its way into a frame.
This is one of those products that makes it easy to simply insert the latest drawing or painting and keep the others stored right inside the frame so they don't get misplaced. If your kid is old enough, he or she could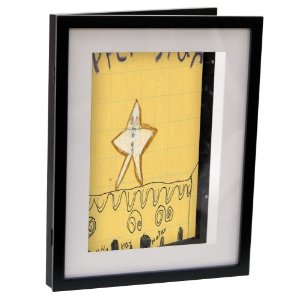 probably even swap out the pictures themselves. You could buy one for each kid and create your own little art gallery in a hallway, kids room or wherever.
According to the Target website, the frame is out of stock online but we found one in the Fayetteville Target store just a few weeks ago. It's the ReStyle brand and measures 12×16 and can also be used to frame a picture/drawing that is 8×12 because it comes with a mat.
We also saw a very similar frame to this one in the Wal-Mart Supercenter on Pleasant Grove Road in Rogers, so you can check there as well.
Once your display storage frame fills up with masterpieces, check out this idea for storing your kids' artwork on a long-term basis. Click here to see how we created a book of kids' artwork using the Shutterfly photo book process. It's easy! We promise.