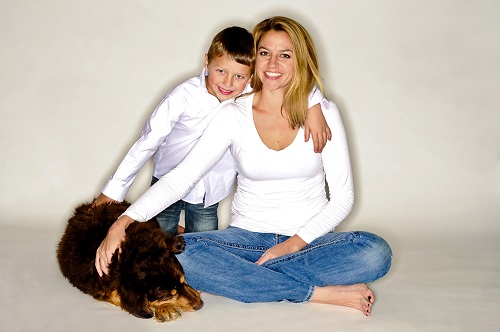 Name: Beth Hall
Son's name and age: "Hap," age 7.
How long have you lived in NWA and what brought you here? I moved to Northwest Arkansas in 1995 to attend college at the U of A.
Tell us about your photography career: I worked for the Arkansas Democrat-Gazette for 6 years and then started my own business, Beth Hall Photography, after my son was born. I am a commercial, editorial, portrait and sports photographed based out of Fayetteville. My work is mostly for businesses, magazines and wire services. I really enjoy the variety of my assignments, the people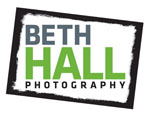 I get to meet, the challenge of getting peak action at sporting events and photographing food… or should I say getting to taste test the entrees after the shoot.
What is a favorite shot you've captured recently? A panoramic image taken at White Rock Mountain in the fall. The image is composed of 26 images stitched together in photoshop. I love going to White Rock, sitting on the bluff and looking over the forest… when I look at that image I feel like I'm there. (Click here to see the pic)
What are some of your favorite places to shoot in NWA? With my work, I don't really have control over where I shoot because I travel to my clients. Recently I've really enjoyed shooting at Crystal Bridges and the newer building at the UA College of Business. The strong lines and natural light have been really fun to play with. My personal work involved driving around and finding places to shoot. I've ended up at Lake Fayetteville and White Rock Mountain several times recently, but mostly I tend to just wander.
What do you enjoy doing when you have a little extra time? I like getting together with my mom and singing while she plays guitar. She's an amazing musician and we always have so much fun. It's something we don't do enough when we're together.
What's playing on your iPod right now? A mix of everything imaginable. My favorite Big Head Todd and the Monsters songs from high school, to pop hits from Pink and Alicia Keys to a local band, Goose. My music has to do with my mood, so I like to keep a diverse mix on hand.
Do you have any fun spring vacay plans? I spent my summers at my grandparents' peach orchard in Greenbrier, Ark. While the trees are long gone, we still enjoy the property. I plan on taking Hap for a week of the outdoors that will include fishing, kayaking on the pond and riding our mountain bikes.
What's been the most unexpected thing about motherhood for you? The lack of privacy. I guess I didn't realized that I would never, ever be alone again. Just the other day I thought I would lock the bathroom door for privacy, but then he ended up sitting outside of it knocking the whole time. It's really cute when I think about it. He just really wants to be next to me at all times. My mom has always said that I will never know when it will be the last time, so I try not to let the little things get annoying because one day they won't happen.
What's something your friends might not know about you? It usually stumps people when I talk about the peach orchard. We were a "you-pick-em" orchard with 5,000 trees and were open the end of June through mid-August. I think those summers had the biggest influence on my life. We worked really hard during the day, and then played in the evenings. My cousin, Jason, and I would fish every night to catch my grandfather's dinner. I recently had someone tell me I was the whole package because I can bait my own hook, catch the fish, clean it then fry it up…. I guess the country-girl side of me doesn't always come out here in Fayetteville.
If you could vacation anywhere in the world this summer where would it be? I have a 94-year-old relative who lives in Virginia Beach that I would love to go visit this summer and take Hap. She is much like a grandmother to me, and is one of the smartest women I have ever known. I would love to spend more time with her.
What's something you have always wanted to learn? To speak Spanish. After taking 6 years in school you would think I would be fluent!
What are three things you always have with you? I should say camera, but to be honest it's only with  me most of the time. I always have my phone, wallet and car keys. My boyfriend might dispute me always having my wallet.
What would your ideal day look like? A slow start with lots of coffee and a big breakfast. After that, I would do something outdoors with Hap. Maybe go kayaking or mountain biking. To end the day, I would cook a big meal and enjoy it with friends and family. I think that sums me up… I like to eat, I like to move and I like to cook.
One word to sum me up … determined