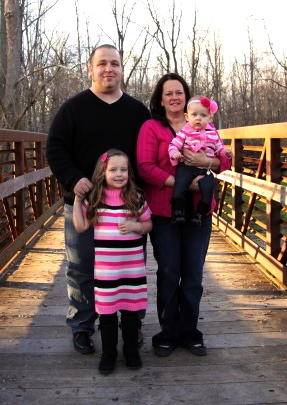 Name: Riana Thomas
Children's names and ages? Lauryn (6)  Sarah (11 months)
Where are you from and how long have you lived in NWA? I originally grew up in the Green Forest/Harrison, AR area, however in 2006 we were moved to Chicago for my husbands job (talk about a culture shock), he was just transferred back to NWA in April 2012 and we are so very glad to be back in Arkansas.
Tell us about your family: My husband works for Tyson Foods, I am now a stay at home mom and also an Independent Fragrance Consultant for Gold Canyon Candles. My girls are my miracles, as I was told years ago, I would never have children, and here they are bursting with life, happy and healthy!
In your opinion, what's the best thing about being a mom? The never ending surprises, you never know what's coming next, watching them learn and change is such a blessing.
What are your favorite hobbies? Baking, selling Gold Canyon Candles, and spending time with my family and friends.
What about your favorite movie?  I have several but, at the moment I would say Bridesmaids and Pitch Perfect they make me laugh.
Winter, spring, summer or fall? Why? Fall ~ I love the changing of the leaves, such beautiful colors and here you see so much more of that than in a big city area.
Tell us about some traditions you've started with your kids:  This year we started (like a million others) The Elf on the Shelf, but what we have always done is go every Christmas and get a personalized family ornament, the only year we are missing is 2009 and Lauryn was sick that year and we spent Christmas in hospital so we decided we would not get that year, because we ALL couldn't go pick it out.
What are go-to activities in NWA? We have been to Crystal Bridges, and we are food people so we try the different restaurants in the area, but we are hoping to find more things to do/activities this year in the area since we wont be busy unpacking 🙂
If you could have a vacation anywhere this winter, where would it be? Playa del Carmen or Rivera Maya… I love the beautiful blue water, warm and sandy beaches…
Which songs are on your iPod right now? Smells like teen spirit (Nirvana), Wanted (Hunter Hays), Home (Michael Buble), I like it all… 🙂
If a song was written about your life, what would the title be? She's always saying, no, no, no…
One thing I have been meaning to do is: Get out and meet more people/moms… I have always worked in an office and met people that way… Staying at home is a whole new world…
How do you unwind at the end of the day? With 3 Chocolate chip cookies and a glass of milk while my husband and I try to catch up on the shows we have DVR'd 🙂
One word to sum me up… Happy