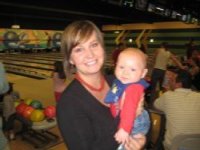 Name: Jennifer Haile Sebourn, husband Charles Sebourn
Children's names and ages? Jackson, 3; Brady, 4 months (he'll be 5 months 10/12)
Where were you raised? Heber Springs, AR, on the beautiful Greers Ferry Lake
How long have you lived in NWA? I moved to Fayetteville in 1998 for my sophomore year of college. After graduation, I moved to Joplin, MO for a year and a half to work for KSN-TV. My husband and I were so excited when I got a job at 40/29 because we really wanted to move back to Northwest Arkansas. It's the most beautiful part of the state!
What's your favorite thing about living here? There is never a dull moment in NWA with so many things to do and see!  We love anything that involves being outside. We camp and hike a lot and with so many beautiful trails and state parks nearby, we're always finding new places to explore with the kids.
A movie that always makes you cry? I am a habitual crier when I watch Steel Magnolias.  Who isn't?!?  I actually liked the name Jackson because of that movie.
Last song you sang along with? The Happy Birthday song… sad, I know. I'm not much of a singer and I've been to a lot of birthday parties lately.
Where did you first see your husband? We lived down the street from each other in college, so we met through some mutual friends at a party. We were actually friends for a year before we started dating.
 How long have you two been married? We'll celebrate our 7th anniversary on Monday.
What are your favorite parenting moments? Anything that puts a smile on my boys' faces is the most fantastic moment of any day.  I forget sometimes how the simplest things can be so much fun for kids (and me!). Bedtime is also a favorite because I get to lay in bed with Jackson and talk to him about his day. It's fun to see how differently he views the day from me.
How has it been to raise two sons so far? I love it!  Growing up I was a tomboy, so playing trucks and trains is right up my alley… just don't ask me to touch certain insects/rodents/reptiles (spiders and snakes, I'm talking to you!)
How are you adjusting to life as a stay-at-home mom? It's definitely been a change going from a working mom of one to a stay-at-home mom of two, but I wouldn't change a thing!  I feel like I know them so much better and appreciate this time that I have with them. I do miss working though!  I miss writing and interacting with the public and hope to find ways to stay involved. I enjoy volunteering when I can and would like to find some freelance jobs as well. I would like to return to work someday in the communications or media and public relations fields. (Jennifer is a former 40/29 Sunrise anchor/reporter)
Are you going to dress the kids up for Halloween? Any ideas yet? Oh my goodness… I am such a planner. I was already talking about Halloween costumes back in August! This is the first year I relinquished control of the costume choice to Jackson and he decided he wanted to be a pirate (I think it's because he wanted to carry a sword). Brady is going to be a cute and cuddly lion.
What's your favorite way to chill? Sitting outside, glass of wine in hand, and kids in bed!
A fond childhood memory? We lived near a lake, so we spent a lot of time on the water. My dad loves to sail, so we would take our sailboat out on the weekends and spend the night in a cove somewhere. It was a great bonding time for our family and it was a lot of fun!
What's something (besides the kids!) you won't leave home without? My iPhone!  I think it has actually become like a third child… I know what it is doing and where it is at all times.
A project you've been putting off for way too long? Printing pictures. Digital cameras are great, except for the fact that I never get around to printing pictures and organizing them. Hopefully by the time the kids graduate, I'll have some scrapbooks and albums to give to them!
One word to sum me up … loyal.