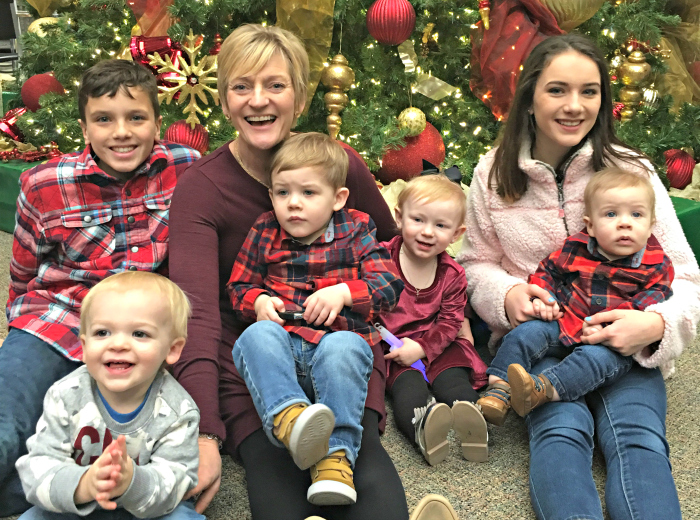 We met Kim and her husband, John, recently at a New Year's Eve party. She had us all laughing the whole night. We know you'll enjoy this little Q&A with Kim, who's a young granny and in branding at DaySpring.
Kids' names and ages:
Michael 30, Khaki 28, Allie 27, Dawson 25 (yes that is 4 kids in 5 ½ years). I tend to treat their spouses like my own:
Michael + Cassie
Khaki + Travis
Allie + Jamey
Dawson + Tara
Grandchildren's names and ages:
Audrey 14, Ty 11, Matt 2, Lennon 2, Kenny 18 months, Jack 9 months  Our oldest two grandchildren (we call them the bigs) are part of a package deal, they came with my youngest daughter's marriage. We have only had them in our lives for 4 years but we ADORE them.
What do the grandbabies call you?
Gigi and the bigs do as well. I wanted bunny but my family said it sounded like a stripper name.
How is being a grandmother different from being a mother?
As a mom, I had the responsibility of the general care and safety for my littles, the day in and day out activities.  I remember making PB&J's thinking, 'Didn't I just do this?'  Raising children can be a bit like living Groundhog Day repeatedly.  In the middle of all the feeding, bathing, dressing, shopping, errands, appointments, activities, I also needed to teach them the things that really matter… Jesus, how to be a good neighbor and friend, how and why we honor everyone…EVERYONE, how to work hard, to be honest…
It was overwhelming at times.
As a Gigi, I can put my energy towards the 'big, lasting, eternal' parts and pieces.  I am not burdened or fettered with the dailies of life.  And although I participate in those here and there, I get to spend most of my time and energy on blessing them, playing with them, praying for them, teaching biblical truths, having FUN!!!!!  Lots and lots of fun!!!!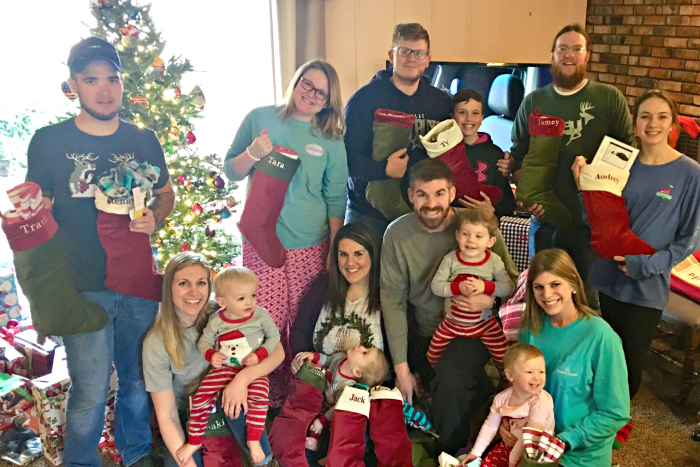 What piece of good advice would you share with new moms?
Trust your maternal instincts. Educating yourself is important, but at the end of the day, no one knows your baby like you do.
In my 55 years, peer pressure was at its height when I was raising my children. Only discipline for the good of the child receiving the discipline. Never discipline for the benefit of someone else.
What's something you feel like you definitely did right as a mom?
I played with my kids. Playtime is so underrated and is essential for development.
No need to 'entertain them," although I love to entertain. Imagination comes to life when our minds shift to boredom. That's when my kids put on plays, magic shows, dance recitals…
Anything you wish you had done differently?
I would have had more wins as a mom and less temper blowouts if I had invested in personal time a bit more. Take some time for you, part-time job, hobby, Mother's Day out, something regular.
How would you describe your family's "personality"?
Big, loud and close.
Where did you and your husband meet?
John and I grew up across the street from one another. We met at age 10, started dating in high school and married after college.
What was your wedding like?
We both were in the Greek system, so we chose January 4, 1986 to marry so all of our Greek brothers and sisters could attend. It was a huge party including dinner, drinks, music and, of course, they each serenaded us.
Where do you live and what brought you to NWA?
We came to NWA from our hometown of Kansas City for a job with Walmart. We arrived on Christmas Eve 1990, with two small children and one on the way.
Tell us about your work at DaySpring:
I stayed at home for 19 years and re-entered the workforce about 12 years ago. I have worked all over the building, but currently am in my dream job, that focuses on the brand, our mission and our consumer. In my professional heart, I am a consumer behaviorist! I love the consumer!
What are your favorite hobbies?
Shopping, swimming (although it is really about water in general), reading and traveling.
What do your best friends tease you about the most?
Embellishing stories. Every good storyteller embellishes a bit.
Where's your happy place?
In, near, or on the water!
Who do you most admire?

Ruth Bell Graham. Why? She gave up her dreams of being a missionary in China in order to fulfill the role God called her to…wife of Billy Graham. She continued to be a strong independent woman in a supportive role instead of a lead role. Leadership and strength aren't always only for the ones on center stage.
What do you most want people to remember about you?
That I dedicated my life to teaching Biblical truths with a whole lot of laughter!
One word to sum me up: Fun
Click here to read more 5 Minutes with a Northwest Arkansas Mom interviews. Our many thanks to First National Bank of NWA for sponsoring this feature, which celebrates all the unique moms here in Northwest Arkansas! CLICK HERE to visit the FNBNWA website or follow them here on Facebook. FNBNWA is a full-service bank and has multiple branches, including: