Northwest Arkansas Holiday Events Guide 2020: Christmas lights, fun activities and family events
Mamas, the holidays are here and we definitely all need a little extra joy in our lives right now! We hope this list of 2020 events in Northwest Arkansas will help bring your family some holiday cheer.
Click on the name of any event for more information. See a list of where to see Christmas lights at the bottom of the post!
Also: BOOKMARK THIS POST because we'll be updating with new holiday events!
Fayetteville/Springdale (Washington County):
Nov. 14-15: NWA Holiday Market, NWA Convention Center (next to Holiday Inn) 1400 S. 48th St. Springdale. This Shopping Wonderland will include 150+ vendor booths of local and out of state vendors with a great selection of gifts, décor, clothing, jewelry, health, beauty, food, children's items, and much more. Masks required. Parking is free and all of the $5 admissions benefit the Children's Safety Center. November 14, 9am-9pm; November 15, 9am-6pm.
Nov. 20-Jan. 1, 2021: Lights of the Ozarks, downtown Fayetteville. Celebrate virtually on Friday, November 20, as the city of Fayetteville flips the switch. After that, the lights will illuminate the square each evening from 5 p.m. to 1 a.m. and remain on through January 1, 2021.  Winter treats, hot cocoa, and festive music will be available.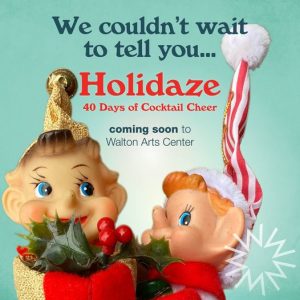 Nov. 20-Dec. 31: Holidaze, the holiday-themed popup bar that debuted in Fayetteville last year, will take over Joy Pratt Markham Gallery, Sudduth Garden Room and the outdoor Bradberry Amphitheater and Rose Garden at Walton Arts Center November 20-December 31. There will be plenty of space for social distancing and more vintage holiday décor. There will also be a walk-up bar with to-go drinks in accordance with Fayetteville's Outdoor Refreshment Area.
Nov. 20-22: NWA Christmas Bazaar, 2228 W. Bowen Boulevard, Fayetteville. You must purchase a time slot since space is limited. $15 reserves your time slot but you get $10 back when you shop.
Dec. 3: Here comes Santa Claus to the Northwest Arkansas mall! Santa will be at the mall in Fayetteville Monday through Saturday, 11 – 7, with a break from 3-4 and on Sunday from noon – 6, with a break from 2 – 2:30. Photos will be by reservation only on Santa's website. Walk-ins are welcome the first and last hours, 11am-12pm and 6 – 7 p.m.
Dec. 4-6: Holiday Market at the NWA Mall. Local and out of state vendors will fill the mall concourses for three days of shopping at the Fayetteville mall.
Dec. 5: Santa's Pump Track Classic, the Jones Center. Runway Bike Park is hosting the 3rd annual Santa's Pump Track Classic. This bicycling event is for kids, ages 3-12.
Springdale/Rogers (Benton County):
Nov. 16: Bentonville Lighting of the Square, downtown Bentonville. A Christmas light display will illuminate the city beginning the week of November 16. There will be over 25 miles of lights and new displays and features. The light display will be up through January 2.


Nov. 20-21: NWA Boutique Show, John Q. Hammons Center, Rogers. Experience Northwest Arkansas' most popular boutique shopping event. Find thousands of unique gifts from over 150 select merchants. There are several special events, including a VIP event and Girls' Night Out.
Nov. 21-Dec. 12 (Saturdays): Downtown Rogers Holiday Market. On each Saturday beginning November 21 and ending December 12, DTR Market will transition to a Holiday Market featuring vendors selling their winter crops, holiday treats, handmade crafts, and gifts. This indoor walkthrough market will be at 120 W. Poplar St. from noon to 5 p.m. All items and food sold will be to-go. Make a big impact this year by shopping small and supporting local growers and makers. Online Market is open year round on the WhatsGood app.
Bonus Events:
Nov. 27-28: Lantern Nights at Wonderland Christmas Tree Farm. Add to the fun of picking out your own tree by coming out after dark, and cutting it down by lantern light. (Lanterns are available in the gift shop at the farm.)
Dec. 4: A Twist on Tradition: Giving Back Stationary Christmas Parade, Eureka Springs. Holiday floats and displays will be available for viewing at various locations on the upper loop, through downtown, and throughout the city from 6-8pm. There will also be areas set up to safely drop off donations for your favorite charities all along the parade route. View the digital display location map at this link: https://bit.ly/2TPmgiv
Where to See Christmas Lights:
Downtown Fayetteville Square. Celebrate virtually on Friday, November 20, as the city of Fayetteville flips the switch. After that, the lights will illuminate the square each evening from 5 p.m. to 1 a.m. and remain on through January 1, 2021.  Winter treats, hot cocoa, and festive music will be available.
Downtown Bentonville Square. Lights are on display nightly, beginning Nov. 16.
Stewart Family Christmas Light Display. 4279 E. Wyman Road, Fayetteville. It's back! Starts on Nov. 20. Over 2,000,000 lights and over 500 inflatables. A walk-through pathway so you can enjoy the lights and the inflatables. Your children can drop off there letter to Santa through December 20. Train rides are $3 per person.
Great Passion Play Lights Drive-Through, Eureka Springs, starts Thanksgiving night, Nov. 26. Thursdays through Sundays through New Year's Day. Enjoy a forest of hundreds of Christmas trees on the way to see the Christ of the Ozarks statue. Dark until 8 p.m.
Bentonville Heart Lites display, starts Thanksgiving night, Nov. 26. Family Christmas light display, 5:30-10:30 p.m. daily 3505 NW Edgewood Ave., Bentonville. Tune your radio to 102.7 FM.
Dye Family Christmas-Cloverdale Lights. Starts Thanksgiving night, Nov. 26, 5:30 p.m. to midnight, 10537 Oak Tree Circle, Rogers. Family light show is sequenced to music and uses new technology lighting.
McKim Family Lights. Starts the night after Thanksgiving. 3506 Hamm Lane, Springdale. Lights are on Sunday-Thursday 5:30 pm-9:30 pm, Friday-Saturday 5:30-10:30 Through Jan. 1, 2021. Tune to FM 91.1 to hear the music.
North Forest Lights, Crystal Bridges. Ok, these aren't traditional holiday lights, but this is a stunning display that fuses art, light, and music throughout an enchanted nighttime adventure in the woods.