2019 Northwest Arkansas Winter Break Activity Guide: Fun things to do while school is closed

After the excitement of the holidays, there's that looong stretch of winter break that can make parents — and kids — feel a little cabin feverish after a while.
When those moments hit, you need inspiration! So consider this guide your 2019 Winter in NWA Bucket List.

To keep everyone happy this winter, here are 25 cool ideas for things to do with kids of all ages in Northwest Arkansas for 2019 (including some special events that happen BEFORE Christmas day while the kids are out of school):
1. Skate it off, skate it off. Ice skate or swim at the Jones Center (indoors) in Springdale or ice skate at Lawrence Plaza in Bentonville (outside).
There are also some roller skating options, including Starlight Skatium in Fayetteville (they'll have expanded hours over Winter Break) and Great Day Skate Place in Bentonville.
2. Play places for the little ones. A great place for little kids to play is Fast Lane Entertainment in Lowell. They have bowling, arcade games and and AWESOME big play structure that even the littles can have fun climbing. They even offer a special lunch/climbing special for the kids.
There's also Fun City in Springdale and the Amazeum Children's Museum in Bentonville, which has fun interactive exhibits for all ages (including a brand new experience called Studio Grow!).
The Little Gym has a Winter Camp Extravaganza from Wednesday, Dec. 23-Monday, January 3th. Ages 3-10 (must be potty trained). Snacks are provided at these fun camps, which include Lego mania, New Year's Beach Bash and Dance Party.
CLICK HERE to see the Baby/Toddler Guide to Northwest Arkansas.
3. Go bowling. Not only can you bowl, but you can also play laser tag and try super-cool virtual reality games at Fast Lane Entertainment in Lowell. You can also try to bowl a spare at Ozark Lanes in Fayetteville, Rogers Bowling Center or Springdale Bowling Center,
Fast Lane has a Winter Break Special running Dec. 21st through January 7th. For $14.99 per person you get unlimited access to bowling, laser tag, rides and their giant play land from 9 a.m. to noon daily.
4. Jump your sillies out. Jump and jump your sillies out at Altitude Trampoline Park in Fayetteville for lots of fun for all ages! Defyis a trampoline park in Rogers.
And Aspire Gymnastics has a cool Winter Break event happening this year! You can choose from Star Wars/Superhero and Frozen!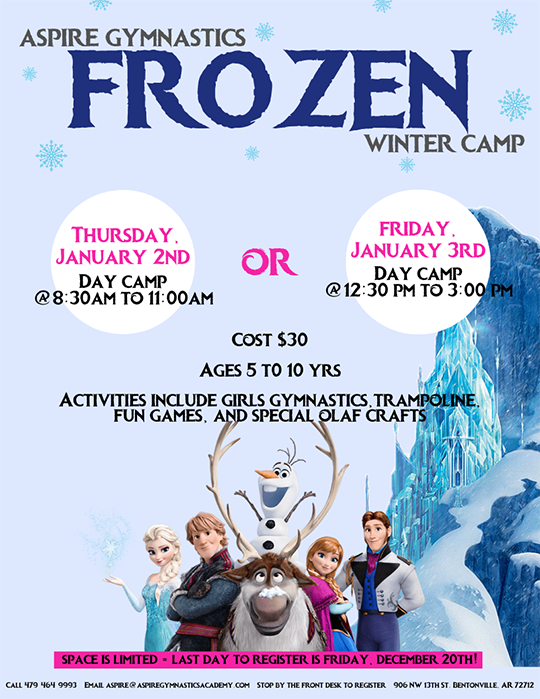 5. Climb your cabin fever out. Let the kids climb their cabin fever out at Lewis & Clark in Springdale or at the Ozark Climbing Gym in Springdale, which has winter climbing camps for kids. Don't forget the new (huge) climbing gym in Bentonville called Climb Bentonville.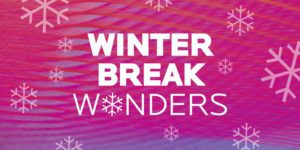 6. Enjoy Winter Break Wonders Camp at Crystal Bridges. Here's a complete list of Crystal Bridges' holiday events!
And enjoy Amazeum mini camps. They're taking the show on the road to the Jones Center and the University of Arkansas!
The Amazeum is hosting Winter Break mini camps:
We've crash landed and we need your help! We need a new aircraft that can fly through the wind tunnels of doom. But don't worry, we'll do STEAM investigations of all things aerodynamics to inspire our creations and help us fly to safety. Advanced registration and payment required. January 3, 2020
9am-3pm
Ages: 6-8
Location: Jones Center, 922 E Emma Ave., Springdale
One fish, two fish, red fish…glow fish?! During this camp, we will explore bioluminescence or glowing in the ocean. Using circuits and LEDs, we'll design and create a glowing ecosystem that shines as bright as our imaginations. Advanced registration and payment required. January 6, 2020
9am-3pm
Ages: 6-8
Location: University of Arkansas, Center for Mathematics and Science Education Suite 202, West Avenue Annex, 346 N West Ave, Fayetteville
Fort like you've never forted before! In additional to the tricks up our sleeves, we'll use engineering, real tools, and a bit of imagination to take fort building to the next level. Advanced registration and payment required. January 20, 2020
9am-3pm
Ages: 6-8
Location: Jones Center, 922 E Emma Ave., Springdale
7. Play arcade games. If you like Pac-Man and Zelda, try Retrocade Arkadia in Fayetteville has all the vintage machines. Of course, Fast Lane Entertainment has lots of arcade games for big and little kids (plus virtual reality games).
8. Visit a museum. Why not learn something new while hanging out at a great NWA museum on a cold winter's day? We already mentioned Crystal Bridges which is perfect for a fun indoor activity that also enriches. There are permanent and traveling exhibits to check out in addition to classes, workshops, a big art room for play — plus lots of events. You can also enjoy the 50,000 square foot Amazeum Children's Museum, which isn't far from Crystal Bridges and offers "Priceless Nights" on Wednesday nights (donation only for admission). Crystal Bridges and the Amazeum both have food options, too.
If you want your kids to learn more about history, there's the Museum of Native American History in Bentonville and Shiloh Museum of Ozark History in Springdale. If you visit the Walmart Museum in Bentonville (which has some fun, old-fashioned candy available for purchase), be sure to stop by the Spark Cafe next door for ice cream. There's also the Rogers Historical Museum, the Clinton House Museum in Fayetteville, the Lowell Historical Museum, the Arkansas Air and Military Museum and Headquarters House Museum.
9. Create something! You can make art together at Imagine Studios, Painting with a Twist, Junque 2 Jewels and Community Creative Center. There's also the new Rogers Experimental House for an artistic outing.
The Fayetteville Public Library will have some winter break events, including movies!

The Springdale Public Library is hosting some fun holiday events like movies and crafts!
10. School's Out Day Camp (all day) at Rogers Activity Center. Send the kiddos to Rogers Activity Center School's Out Camps for all-day care. They'll go on field trips and have fun while school's out.
11. Enjoy Winter Break at the Jones Center. On December 21st, the Jones Center will have a fun Open House event!
On the 23rd Skatemas Break starts! After Christmas and before New Year's Eve, the Jones Center is opening up the rink for extended all-day sessions.
12. Play laser tag, inside or out. Complete a super-cool mission at Modern Mission. They've got outdoor indoor laser tag or an indoor battlefield to tackle in Fayetteville.
13. Visit a bookstore. There are several quirky favorites in Fayetteville: Nightbird Books or Dickson Street Bookshop. Don't forget Once Upon a Time Books in Tontitown.
There's also Barnes & Noble in Fayetteville and Rogers.
14. Visit your local library. Browse the books, play with puzzles, listen to a story time or attend an event at the big public libraries in Bella Vista, Bentonville, Rogers, Springdale (home of the "duck park") or Fayetteville.
15. Get dramatic at the theatre. You can see some great holiday shows at Walton Arts Center! See The Snowman: A Family Concert is on Dec. 22.  The Polar Express will be showing on Monday, Dec. 23. PJs and head over to WAC for a special screening of the family-favorite Christmas story about a young boy on an extraordinary ride to the North Pole. Hot chocolate bar included. Tickets are $10.
16. Attend a New Year's Eve event. There are two great family-friendly events happening A DAY EARLY in NWA, including Noon Year's Eve at Crystal Bridges, on Monday, Dec. 30, 11 a.m. to 3 p.m. Ring in the New Year (without staying up past bedtime) at this fourth annual family celebration. There will be fun art projects, performances, a Coca-Cola toast at noon, and a family dance party. Free, no registration required.
Zing in the New Year at the Amazeum A DAY EARLY on Monday, Dec. 30. Visit the museum is collaborating on a "pop" art project and sending stomp rockets into the skies (weather permitting), along with other unique interactive activities designed to creatively celebrate the start of a new year.  Zing in the New Year activities included in paid daily admission and membership.
Excitement bubbles over at the end of the day with a celebration that really pops! Stay and play until 5 pm and join the final parade of 2019!
17. Watch some planes! Thaden Field is a great spot for the kids to see planes flying to and fro. The 22,000 square foot Thaden Fieldhouse on the Northwest side of the airport houses an aviation exhibition center, a retail space, and a large balcony allowing visitors to watch as aircraft come and go from the nearby runways. And there's a cool restaurant called Louise where you can see the planes, too. (The food is awesome!) Not to mention the games to play on the lawn (if it's not too cold)!
18. Find out where bluebirds come from. They're not creating new Bluebirds of Happiness at Terra Studios outside of Fayetteville, but you can still see them on display. If it's not too cold, walk around and see all the quirky sculptures. There's also a gallery featuring local art of all kinds.
19. Catch a movie. You should check out the reclining seats at the newly-renovated Fiesta Square and Razorback Malco theatres, both in Fayetteville. And have you visited Skylight Cinema in Benonville? You can eat dinner while you watch a movie there!
20. Watch real eagles! Hobbs State Park has offered eagle watch tours on Beaver Lake for nine years. Every cruise is different. You never know what wildlife you will see. According to Chelsea Porter, park interpreter, "We have always been lucky seeing eagles on our tours; some mature, some immature, and we always see other beautiful wildlife as well. It could be migrating osprey, great blue herons, king fishers, deer, or red-tailed hawks. No one will ever be disappointed on our eagle tours." Tickets must be purchased in advance. Adults $10 + tax. Children 6-12 $5 + tax. For more information and to make reservations, call 479-789-5000.
21. Hop a train. The Arkansas & Missouri Railroad offers Holiday Express train rides right before Christmas.
22. Visit kitties. The Purr Catfe in Fayetteville partners with local shelters & rescues to facilitate the successful socialization & placement of homeless cats while offering community members "a space to enjoy the company of these furballs & reap the many benefits of purr therapy." (There is a cost to visit the kitties — this is a non-profit.)
23. Go out to eat on the cheap. Pop over to our Kids Eat Free List to see where you can go during the week for free or inexpensive meals for the kids.
24. Go see the holiday lights before they're gone! The Fayetteville Square lights will be up through New Year's Day.
25. Join forces with your kids to help others. A local mom shared with us how she and her kids do the "giving back" calendar every year. CLICK HERE to see all the fun ideas she had for what to do this holiday season to make someone's life brighter.
BONUS idea: Did you know you can take your family skiing at a small ski area that's only four hours from Northwest Arkansas? It's called the Snow Creek Ski Area in Weston, Missouri. We tried it out and wrote a review of it, so click HERE to check it out. It's a fun, easy ski trip relatively close to home that won't cost you a ton of time (and no plane tickets are necessary)! They offer lessons there, too. If you're not a skier, they also have snow tubing at Snow Creek.