Fall is just around the corner and that means family fun! We love fall in Northwest Arkansas and, as usual, there's no shortage of things to do in the region over the next few months.
We rounded up 10 of the best things to do in NWA this fall, including fun events, pumpkin patches, Halloween activities and more. CLICK HERE to see our big list of Halloween events in Northwest Arkansas.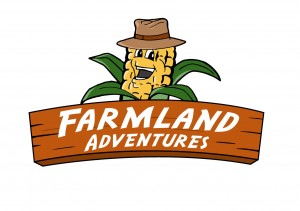 Just click on the orange highlighted words to find out more about each activity, and click here for a free printer-friendly Fall guide that lists even more events/activities! It's sponsored by Farmland Adventures!
Click Here for the Printable 2017 Fall Activity List.
Save
Print the list and keep it on your fridge or in your purse for a quick reminder of things to do over the next few months. You can also save it to your phone for a quick peek when you're looking for fall fun activities.
Here's our Top 10 List of Things to Do This Fall in NWA:
1. Pick pumpkins, have fun on the farm and navigate corn mazes.
If you want to pick your own pumpkin and let your kids hang out on the farm for a few hours, there are several options around here, including one of our absolute faves, Farmland Adventures in Springdale. Farmland opens on Friday, Sept. 8, and the season runs through Nov. 4. They have a 9-acre Giant Corn Maze, a pumpkin patch, pony rides, farm animals, pig races, and a kids play area. It's a short drive from where ever you are in Northwest Arkansas.
You can also plan group outings or birthday parties at Farmland!
Take a look at our printable for the BIG list of pumpkin patches and corn mazes, including dates of operation for each. In addition to Farmland Adventures, the pumpkin patches that also include other attractions are Exeter Corn Maze, Right Choices Corn Maze and Ozark Corn Maze, Legacy Farms and Botanical Garden of the Ozarks.
2. Take fall family pictures.
Click here to see a list of 10 geat places to take pictures this fall in Northwest Arkansas! Use a great shot for your Christmas card picture or for some pics to be framed around the house.
3. Fangirl over some football.
It's time to call those Hogs! This year's University of Arkansas Homecoming Week will be Oct. 30-Nov. 4. The Homecoming Parade will be on Dickson Street before Friday night's pep rally. The fun will end with the Arkansas Razorbacks football game against Coastal Carolina on Nov. 4.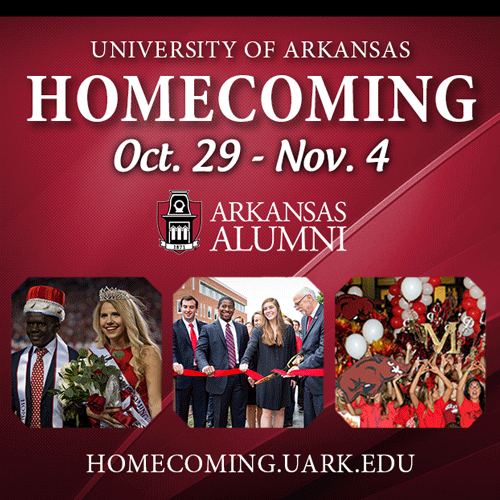 Click here to see this season's Razorback football schedule.
4. Find festivals.
If you like visiting hometown festivals, the Arkansas Apple Festival in Lincoln is coming up Oct. 6-8.
The Junk Ranch will have its annual event in Prairie Grove on Oct. 6-7. Food trucks, live music and lots of "junk" to shop.
First Friday on the Bentonville Square will be celebrating "Fall Fest" on Oct. 6.
Check out our printable list for LOTS more festivals this fall in Northwest Arkansas.
5. Enjoy craft fairs galore.
Of course, there are plenty of craft fairs to visit in October, including the HUGE War Eagle Mill Arts & Crafts Fair in Rogers on Oct. 19-22. Vintage Market Days will be Oct. 13-15 at the Benton County Fairgrounds.
The 3rd Annual HeART of Rogers Crafts Fair, is scheduled October 20-21, from 9 a.m. to 7 p.m., in historic Downtown Rogers. This year, it will be held inside two historic venues, the ballroom of the beautiful newly restored Haas Hall Academy located at 121 W Poplar St, in what was once the Historic lane Hotel.  The second venue, is the Fellowship Hall of the Methodist Church located at 307 W Elm St., Rogers, on the corner of W Walnut and 3rd St.
Be sure to check out our printable list for all the fall craft fairs in NWA.
6. Discover fantastic fall foliage.



Of course, this time of year means it's time to drive I-49 or the Pig Trail Scenic Byway to ooh and ahhh over the trees that are changing into their brightly-colored fall clothes. Crystal Bridges has some amazing trails and you're sure to see some beautiful leaves along the way.
You can also get a great view of the area's fall foliage while taking a ride on an Arkansas & Missouri Railroad train tour!
Also, any of Northwest Arkansas' many hiking trails will be great for looking at leaves.
Click here to read a post about some of the best places to hike in NWA.
7. See a show on the stage.
Walton Arts Center has some AWESOME shows coming up this fall!
We're so excited they're bringing in The King & I, Charlotte's Web, Shopkins Live! and many more. If your kids love Harry Potter, Harry Potter and the Sorcerer's Stone will be at the AMP on Oct. 7. The movie will play on a giant screen while the Symphony of Northwest Arkansas plays the film score in the background.
Click here to see the whole line-up of shows at WAC.
8. Shop unique boutiques.
In early November, there's the NWA Boutique Show to enjoy! This show is held each fall in Northwest Arkansas and will be on Nov. 17-18 this year.
We'll be at the Boutique Show at our booth in the back, so be sure to stop by and say hello (plus sign up for our giveaway and nurse/feed/change your baby) in our private Nursing Lounge/Baby Changing Area! This juried show features boutique booths with custom and one-of-a-kind creations from local and regional designers. Clothing, jewelry, art, stationery, gifts, personalized items, home décor, furniture, baby essentials and more.
We also love the Little Craft Show, which will be Nov. 24-25 this year at the Fayetteville Town Cener.
9. Have fun at Halloween events!
We have lots of fun in NWA around Halloween, including Trick-or-Treating on the Fayetteville Square, the Goblin Parade in downtown Rogers, both on Oct. 31st.
There will be Trick-or-Treating at the last Farmer's Market of the season on the Bentonville Square on Oct. 28.
The Botanical Garden of the Ozarks will have a Little Sprouts costume parade Wednesday, October 25th, starting at 10:15 am.  Shaky Bugs will perform, and there will be booths. FUN NOTE: BGO is going to continue offering Little Sprouts sessions once a month – on the second Wednesday of the month from November-April.  (In the past, it's always ended in October.)
You'll find more Northwest Arkansas Halloween 2017 events in our printable!
10. Check out the farmer's markets around NWA.
The various farmer's markets in hometowns across NWA run through the fall, so if you haven't been out to one yet, you should visit those while you can!
Here are the links to each (our printable lists the dates that each season ends):
Note from the mamas: We'll share new fall fun/Halloween activities here on nwaMotherlode as the season continues, so be sure to sign up here for our newsletter (to have the info delivered straight to your inbox) and visit the website often!
Save
Save
Save
Save
Save
Save
Save
Save
Save
Save
Save
Save
Save