Kids are the most fun family members to shop for, but each year it can be tough to find great gifts that won't lose their appeal too quickly or break before New Year's Day. For some new ideas, we asked Lindsay Ramsey, owner of one of the hottest new toy stores in Northwest Arkansas — Kindness & Joy Toys.
Left: Spin Again is a stacking toy with a spin—literally! Drop the vibrant discs onto the threaded corkscrew pole and go "ooooh" as they spin fast and smooth to settle onto the reversible base. Choosing how to set the base is half the fun for your toddler. Pick either the wobble base or turn it over for a solid seat. Want to make a rainbow? Want to keep all the round-edged shapes separate? You can! Even the smallest disc can spin all the way to the base. Taking the Spin Again apart so you can start spinning again might just be the best part. Lift up on the easy-to-release central pole and all the discs spin off the bottom! (Check out this video of Lindsay's son taking this toy out for a little "spin." He is adorable.)
The Spin Again will keep your little ones enthralled as they practice their hand-eye coordination and baby engineering skills. Great for ages 12 months and up. Cost is $30.
Right: This bow and arrow set from Two Bros Bows comes with bow, two kid-tested, foam-tipped arrows, and a target for hours of imaginative fun. These sets are hand assembled in the USA and available in a variety of patterns. Perfect for ages 6 and up. Cost is $30.
Where to shop: Kindness and Joy Toys doesn't have a store front, so you can ship the toys to your house or to the person receiving the gift. (She gift wraps! Hurray!) Also, Kindness and Joy will have a Pop-Up Shop at Sara Kathryn's in Fayetteville on December 10th from 10 a.m. – 6 p.m. (if you want to order now and pick up at that event.) They'll also be at Shop For Mankind/3 Monkeys in Rogers on Thursday, December 15th from 10-2, if you'd like to order and pick up there.
How to contact: Visit website by clicking here; Message via Facebook; Find it on Instagram; Email owner by clicking here.
When your kids want to play and you're all a little stir crazy (especially during the cold, rainy winter months), a trip to the Amazeum is a gift for the kids AND for a tired mama who just can't play yet another round of Candy Land right now. That's why we're also recommending you give your kids the gift of an Amazeum Family Membership.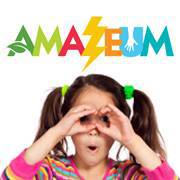 The membership will get the kids (and the entire family) free admission for an entire year, special members-only hours, advance notice and special pricing for educational camps and programs, discounts on birthday parties, 10% off at the Amazeum store, and free entry to 350 science museums across the country. Click here for a list of all the perks of membership. Cost of membership is dependent on which level you choose.
Membership packets can be mailed to you or to a gift recipient and usually take 2 weeks to arrive. (Call the museum if you need it faster.) You could wrap up a photo of one of the Amazeum's cool exhibits along with a note to your child about the membership, and put it under the tree this year.
Where to shop: Memberships can be purchased online or at the Amazeum, located at 1009 Museum Way, Bentonville, Ark.
How to contact: Click here for membership info; Call 479-696-9280, extension 202 or 222 if you have questions.